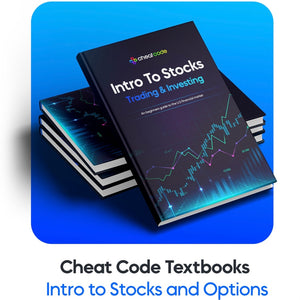 Cheat Code
Intro to Stocks & Options TEXTBOOK
Regular price
$197.00
Sale price
$299.00
Unit price
per
"Intro to Stocks & Options" Textbook: A Simple Guide to the Not-So-Simple World of Stocks
Ever felt like diving into stocks is like jumping into a deep ocean without a snorkel? We get it. That's why our "Intro to Stocks & Options" textbook is here to be your lifeguard. Whether you're just testing the waters or have been swimming in the deep end for a while, this guide's got your back.
What's Inside? Here's a Sneak Peek:
QR Codes in Every Chapter: Think of it like magic portals! A quick scan and you're whisked away to video lessons that bring words to life. Reading + Watching = Double the learning fun!

Finding Those Golden Stocks: Ever wonder how people pick those winning stocks? We spill the beans on figuring out a company's real worth, its health, and where it might head in the future. You'll be making buy or sell calls like a pro.

Decoding the Stock Signs: With over 20 indicators and chart patterns at your fingertips, you'll soon become a detective, spotting trends and making those timely decisions. The stock charts won't know what hit them!

The Big Stock Market Picture: Explore the grand world of stocks across 12 sectors, from the hustle of tech to the innovations in healthcare. Get the inside scoop and spot where your next opportunity lies.

Even More Video Goodness: Apart from the QR code surprises, you've got 10+ extra video lessons waiting in the wings. Perfect for those "I'd rather watch than read" days.

Dive Deep into Market Sectors: We've dedicated a whole section to help you get cozy with all 12 market sectors. It's like having a map of hidden treasures in the stock market realm.
Ready to be the captain of your own financial ship?
With our "Intro to Stocks & Options", it's not just about reading—it's a whole adventure! So, grab your copy, and let's set sail towards prosperous horizons! 🌊📈🏝️
---
Share this Product
---